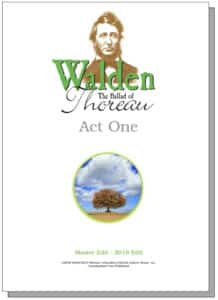 You can order a HARD COPY of the script for $20 post paid in the USA.

The WALDEN DVD and CD Gift Set
WINNER: Aegis Film Award
WINNER: John Muir Gold Film Award
The WALDEN DVD & CD GIFT SET is the same production that will be seen on Public Television and movie theaters, but with many extras. Included is the the 60 minute high-definition production of the Walden play on DVD … plus the 30 minute special feature "The Making of Walden" … conservation tips, extended interviews with scholar Thomas Blanding and Sean Miller … Michael Johnathon's concert set and more.
Also included is a second disc, the 12-song album "Walden: The Earth Song Collection," with full liner notes. Just $19.95 total, post paid in the USA

Walden : The Earth Song Collection
12 song CD music album. The play author, Michael Johnathon, has completed the recording of the new Walden album. It is a lovely album of acoustic guitars, flutes, banjo, mandolin and string quartets. A lesson plan and sheet music is being written around the album songs and is available on the TEACHERS DOWNLOAD page of our website. We encourage schools and presenters to use local musicians for pre-show and intermission music, but where that is not possible, the Walden album would be perfect. Just $11 total, post paid in the USA
Order
Send a check payable to WoodSongs Inc, PO Box 200, Lexington KY 40588
Order by phone 859-255-5700 10-5PM EDT
Use this easy PayPal button